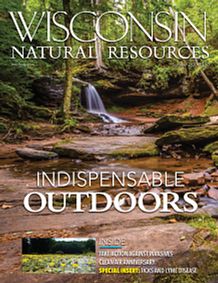 Contact information

For information on the magazine's webpage, contact:
Kathryn Kahler
Associate editor
608-266-2625
Readers Write
PHOTOS AND FEEDBACK FROM OUR READERS
Want to comment on a story? Send letters to: Readers Write, WNR magazine, P.O. Box 7921, Madison, WI 53707, or email to DNR Magazine. Limit letters to 250 words and include your name and the community from which you are writing.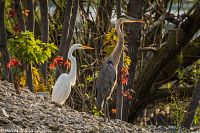 TWO GREATS IN ONE FRAME
Great egret and great blue heron in Menasha.
Harold W. Boccheciamp
Neenah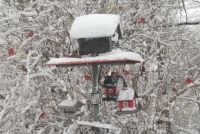 ALL DRESSED IN RED
Just a few of the many cardinals at the feeder in February.
Karen Grunewald
Jefferson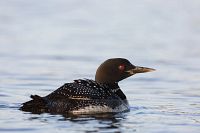 SYMBOL OF THE NORTHWOODS
I'm a photographer based in the Northwoods of Wisconsin. I'm reaching out because I wanted to submit some of my photos for your magazine. Thank you so much for your consideration!
Kristen Carlson
Tomahawk
Thanks for sharing your photos, Kristen. Because of its symbolism, we chose this one of the common loon with its prominent red eye. Loons are icons of the Northwoods and known for their haunting calls, described as wails, hoots, tremolos and yodels. They are among many migratory waterfowl that live in Wisconsin during warm months. The Sigurd Olson Environmental Institute at Northland College in Ashland oversees LoonWatch, a program to protect common loons and their habitats through monitoring, research and education. Check Northland College's Loonwatch to learn more.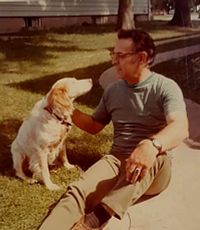 REMEMBERING DON THOMPSON
While reading your Spring issue ("Back in the day"), I was disappointed that you gave no facts about the career of Donald R. Thompson on page 47, under the heading of "Conservation Update." You printed only that Don wrote the article.
Don was an excellent employee of the former Bureau of Research (Wisconsin Conservation Department and later, the DNR). Don and I were students at the University of Illinois; we both had Dr. Kendeigh (noted ornithologist S. Charles Kendeigh) as a teacher.
Don was a fellow biologist of mine when I worked at the DNR's Nevin Hatchery from 1967-80. He helped me several times with his knowledge of surveys, statistics and ecology. Don also was one of Aldo Leopold's students and deserves more recognition.
Chuck Pils
Madison
Thanks for the letter, Chuck, it's always good to hear from a former longtime DNR employee like you (33 years of wildlife management service before retiring in 1999) to remind us of the dedication and knowledge of so many here before. Indeed, Don Thompson spent his entire professional career at the Wisconsin Conservation Department/DNR, especially instrumental in overseeing then-emerging forms of data collection through species and habitat surveys as a tool for wildlife management. Thompson was chief of the Technical Services Section in the DNR's Bureau of Research when he retired in 1982. He continued his involvement in outdoor pursuits and shared his knowledge through numerous volunteer activities until his death in 2014 at the age of 94.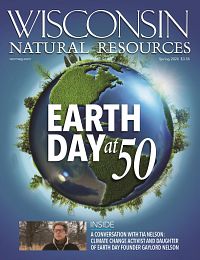 NEVER TOO COLD TO HANG OUTSIDE
I greatly enjoyed reading through the Spring issue. However, one item stopped me short. In the "Earth Day 365" article, the author said Wisconsin's winter weather was "not always practical" when it came to hanging laundry outdoors. I beg to differ.
On bright and sunny days, during the coldest of winters, I will hang sheets out on the line. The scent and freshness of the winter air is beyond all comparison. I learned this from my mother-in-law many years ago when she asked me to hang out her sheets in 30-below wind chill. I loved my mother-in-law dearly, so I did as she said.
After I brought them back into the kitchen, she said she loved the fresh scent that came from hanging them outdoors. This became one of my many great memories of her. Thank you for your great magazine.
Jeanne Bifulk
Albany
EARTH DAY, YES, BUT SNAKES – NOT SO MUCH
Hello, I just wanted to take the time to congratulate you on the Spring issue of Wisconsin Natural Resources. Wow! My husband and I have enjoyed a gift subscription to the magazine for many years. This issue is hands-down the finest one I've seen.
Thank you for the many articles celebrating the 50th anniversary of Earth Day and its founder, Gaylord Nelson. Wisconsin, the USA and the world were blessed to have had Gaylord Nelson looking out for us and the environment. His inspiration lives on. Regarding another reader's letter: I must agree with Maggie Christens. I, too, am terrified of snakes and photos of them. I just turn the page quickly. Unfortunately, that also means whatever article is on the page doesn't get read. I thought you could use a chuckle today.
Thank you again for publishing such a high-quality magazine.
Donna VanGrinsven
Appleton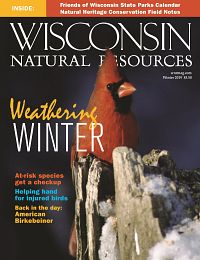 NO FORGETTING WISCONSIN WINTERS
My Winter issue just arrived and the wonderful article "Masters of Mother Nature" has been devoured. It brought back memories of gathering goldenrod galls for ice fishing, shoveling a 5-foot-high drift to get to the bird feeders, taking students on a winter nature hike at the Audubon Center in Milwaukee (Schlitz Audubon Nature Center, Bayside) and much more.
One winter when I took the advanced biology class from Nathan Hale High to the Audubon Center on Lake Michigan, the wind chill was minus-25. It was an eye-opening learning experience when the kids saw that a small bottle of liquid on top of the snow had frozen in an hour's time, while one buried a foot under the snow was still liquid.
Thanks for this interesting group of stories. We had a cold snap here in Arizona recently – it reached 32 degrees, and a medium weight jacket was sufficient to keep me warm. I did look at the double jacket from Wisconsin days hanging in the closet and wondered if I would ever need it again.
John F. Knight
Sun City West, Arizona
John, now retired, was a longtime biology teacher at Nathan Hale High School in West Allis, making him quite familiar with the ways of winter in Wisconsin.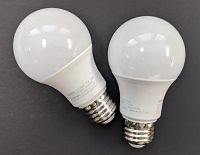 SHEDDING LIGHT ON BULBS
Great historical recap of Earth Day and Gaylord Nelson's role, in the Spring magazine. Your "Light it up" recommendation on page 30, however, is off the mark.
CFLs (compact fluorescent lights) are a thing of the past. They were a transition option as more efficient LEDs (light-emitting diodes) came down in price and offered multiple form factors. Plus, no mercury to deal with. Your picture shows LED bulbs, but your words are six years behind the times.
P.S.: LEDs have been a key part of my net zero retirement home.
Don Hoffman
Black River Falls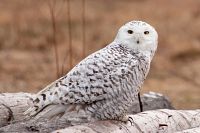 SNOWY OWL ON A RAINY DAY
I am always out taking pictures of Wisconsin's nature/wildlife. I came across this beautiful snowy owl on March 29 at 6:15 p.m., just north of Ladysmith, in the cold rain and wind.
Scarlet Nagel
Ladysmith
Last revised: Wednesday June 10 2020