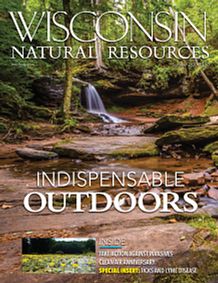 Contact information

For information on the magazine's webpage, contact:
Kathryn Kahler
Associate editor
608-266-2625
Your Outdoors
BACKYARD OWLS CREATE THEIR OWN FAMILY TREE
Story and photos by Lisa Vandervest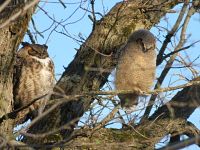 Dinnertime, naptime, alone time, flight time: All was on display from a family of great horned owls in a wooded backyard in Mequon last spring.
Late last April, my black lab and I had just finished our morning walk around the neighborhood. We returned to the yard hearing unsettling bird calls of dismay coming from the trees in back.
My first thought: A hawk was being annoying company looking for a meal. I approached the wooded area and was surprised to see a great horned owl – during the day!
I slowly retreated to get my camera and leave my dog inside. When I returned to the woods, loud squawking still echoed. At that moment, another owl flew in and landed on a branch not far from the first owl.
All this commotion enticed me to advance closer. Looking up, the reason for all the noise was revealed. A female owl, with a rabbit held tightly in her talons, was feeding her owlet! The male stood guard above.
With camera in hand, I stood still, observing and shooting photos. It was an incredible event to witness and one I will never forget.
Food and flight lessons
This wasn't my only encounter with the owls last year, just one of many. When returning from walks, I regularly spied the owlet with one of its parents. I never caught sight of all three owls together except that first day.
Routine viewing occurred from my kitchen windows, or I would walk into the yard or to the tree line to check their location. Every day, the owls were present not far from the previous day's perch.
The owlet was not an accomplished pilot. . . yet. There were daily practice sessions of wing flapping while it walked the large tree limbs like a tightrope walker. But the owlet refused to release its talons from the branches.
It was obvious when mealtime was near. The owlet didn't hold back and constantly called for food. Once fed, the owlet and parent would perch together facing the warm sun. The owlet would nod off and bob its head in sleep, catch itself and sit back up. It was simply amazing to watch.
Empty nesters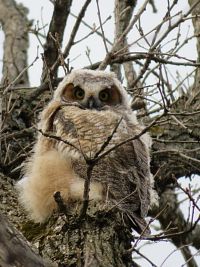 By the first days of May, the owlet was very strong. Perching locations changed many times throughout the day, with short flights from tree to tree. Landings improved steadily – and then it happened.
One afternoon, I looked out the window and saw the owlet release from a high branch and soar to the other side of my yard. The flight was flawless with a strong, steady landing. Confidence attained, it took flight again and was out of sight.
That was the last time I saw the owlet on my property. The moment was thrilling! I was honored to observe many days of progress and watch it fledge from my yard.
The pair of great horned owls have been living in or around my yard and neighborhood for over seven years, but last year was the first time I discovered them with an owlet. The two are still here today and, from what I hear, working the night shift.
Lisa Vandervest is a nature lover and bird watcher who lives in Mequon.
Last revised: Wednesday June 10 2020